This page was last updated on: January 4, 2017
e-mail
me some pictures of how it was done on your boat
Water Heater

belongs in the

Thermostat By-Pass

on

Universal Diesel

Existing barbs are good enough for 1/2 inch ID hose.

I ended up using a 1/2" hose on the existing barbs.  The 1/2 " hose runs about three feet back to the existing 5/8" heater hoses.  At that point there is a 1/2" to 5/8" plastic adaptor that makes the conversion as shown below.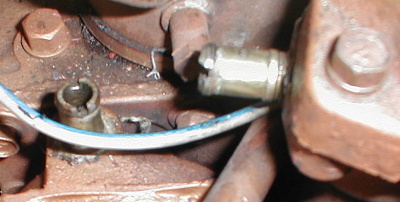 Plan view

      w/o

brass elbow

added Air Intake and breather notes

Dec. 02'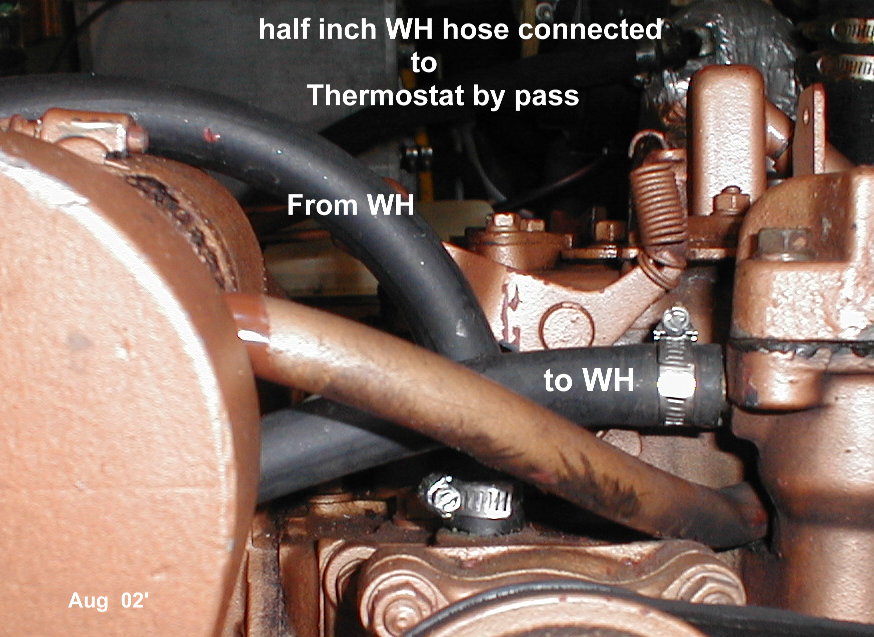 Front View

     w/o

Brass Elbow

  Original

Front view.

with

five inch

long  1/2"

  ID

Thermostat

by pass

hose

I have found some brass 90 deg elbows that may fit into the pipe thread of the engine so that the "From WH" line can stay below the "to WH" line to make it easier to fill the water heater when changing coolant.  I may install them next winter, but so far everything is working OK and our continuous speed is 15% faster as we are no longer cooling system limited. 
Click here for curves showing temperature after one hour runs a various speeds
.
    Check out Racor's comments
on blow by
.
I also noted that all the inquiries made at
Torresen.com's
discussion forum are told to put it into the thermostat by pass circuit.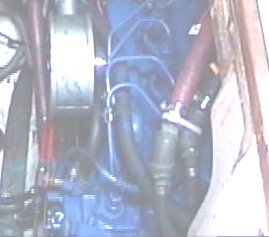 3/8" ID hose to elbows and 5/8" barbs on  Universal M40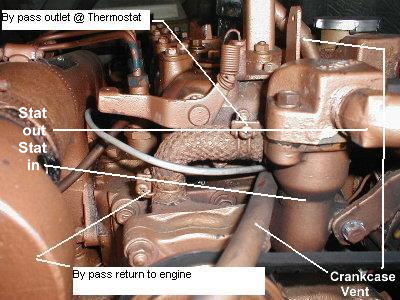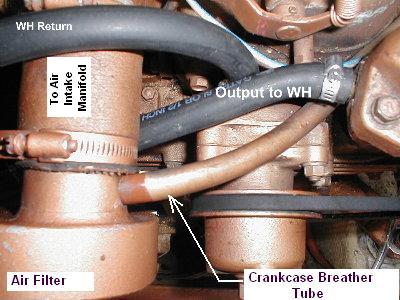 Here is one that looks like it just has two elbows that already convert to the right size for the hoses.

It looks like there is a little petcock handle right on top of the thermostat housing, but it is obscured a bit by the valve cover ventilation hose.  This is a later model that has the thermostat output going into the side of the manifold rather than the front of the manifold..

Click here
to see a detailed experience encountered by the owner of a 1982, 32 HP Universal model MD40.
Click here
to see the experience of a 5432 owner using pipe fittings
Click here
for information on brass fittings from a marine water heating company.
Click here
for information on ecologically correct coolant recovery reservoirs and how they may help bleed the coolant system.
Click here
for photos of how the heat exchanger was hooked up and how it is now hooked up.
Click here
to see four different schmatics on how folks have hooked up water heaters.
Westerbeke
thoughts on water heater above the reservoir/pressure cap to bleed out the air.  I think I just loosened up the thermostat housing.